Back in the early days of eBay, many of us were buying items that were improperly listed on the site, and flipping them right back on eBay for more money.
At the time, images were not required, and eBay charged when you added pictures, so many people would list without images. You could buy an item off eBay, add some photos, relist, and make money.
Incomplete listings were also a source of good finds. Sometimes the seller would list an item and have no idea what it was. I bought and sold classic car parts for many years. Some sellers would list a part and not know what the part was called, so they would just list the number that was stamped on the part or printed on the box. If I searched for D1Z* for example, I could pull up every 1971 Mustang part that was listed by part number or casting number. I was able to find a lot of valuable and rare items because the seller never looked up the part number online to find out what they were trying to sell.
Another strategy was to search for popular misspellings of the item that I wanted to buy. For example, I bought a lot of center consoles for classic cars on eBay. Common misspellings for the part were consel, council, counsole, and consol. Sometimes I could find a valuable console with the misspelled title, and then relist it correctly for a profit.
So that brings me to my point – DO THE RESEARCH before listing, and know what you are selling. If spelling isn't your strong point, use a spellcheck program or have someone review your listings and make edits. Take good photos of your item. Cover all of the bases, and the person who is actually searching for that product will be able to find it, see it, and most importantly, buy it.
Here is a recent example of a poorly listed item that I was able to buy, and ultimately resell for a profit.
A short time back, my washing machine quit working. I knew what part I needed, so I looked online to buy one. They were back-ordered everywhere.
I searched by the item name on eBay, and there were a few, all listed in the $200 price range. There were also a few used ones, but being an electronic item, I thought it would be best to buy it new.
I then did a search for the part number in the titles and in the descriptions. BINGO! There was one listed at auction for a $0.99 opening bid plus $10 shipping.
When the auction ended, I was the high bidder at $41, plus shipping.
The problems with the listing were many. The item was misidentified, and the seller didn't include any searchable keywords to help the buyer find the item. The only way to locate it was by the part number, which was in the description, but not in the title. There were three bidders at the end, but there could have been many more.
Here is a screenshot of the original listing. The item ended on July 22, and I received it about a week later.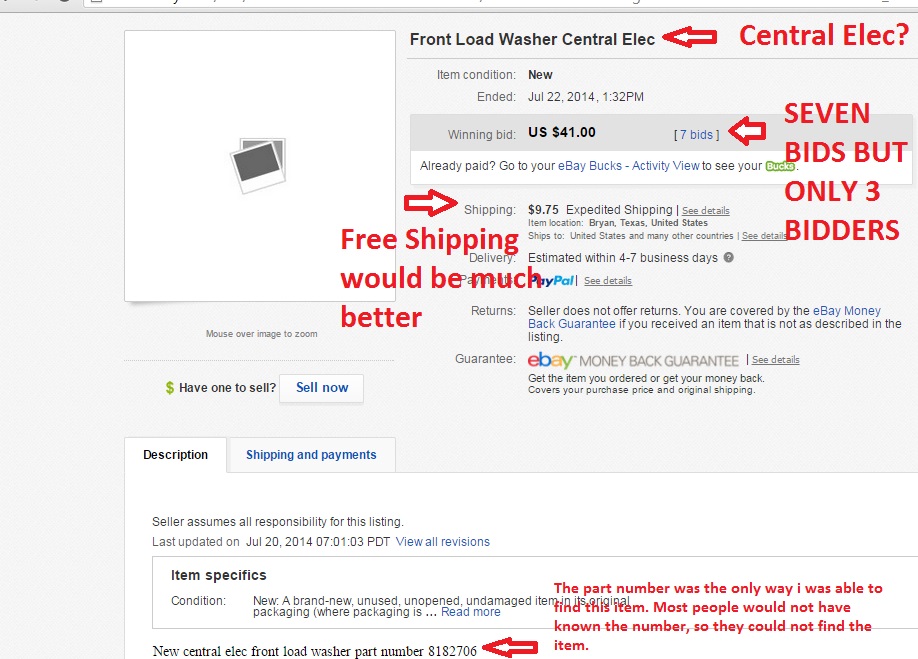 Click image to enlarge
Note the final price plus shipping – $50.75.
Now look at my relisting of the same item. I listed it on August 1, and it sold a week later,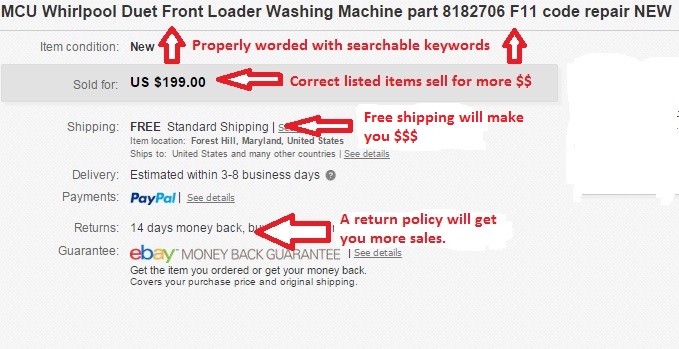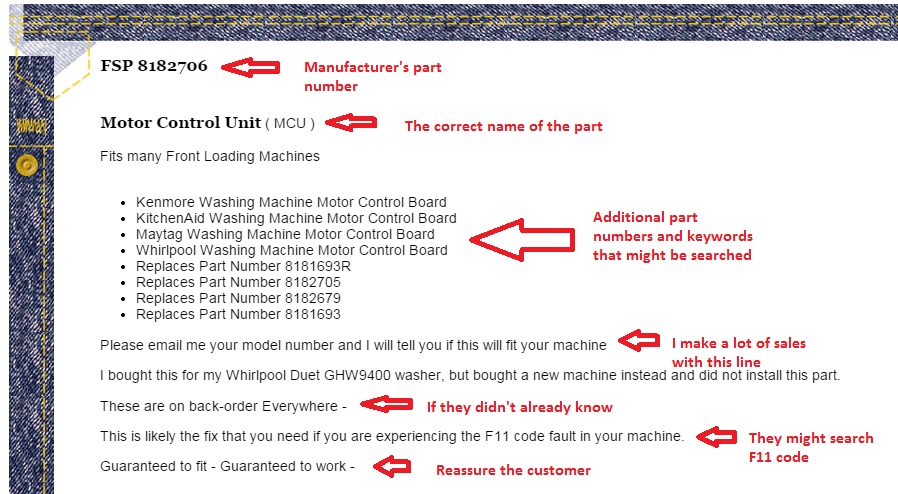 eBay arbitrage is alive and well!