Restricted Brands
Amazon Restricted Brands
&
Amazon Category Approval
Amazon restricted brands: One way Amazon is trying to prevent counterfeits from being sold on the website. Whether an Amazon category is open or gated, being approved to sell does not necessarily mean that you can sell every item that is listed in that category. There are many Amazon restricted brands and they are restricted for many different reasons. Some companies may have exclusive agreements with Amazon or with one or more Amazon sellers. Some brands are counterfeited so heavily that they require sellers to obtain their goods directly through the manufacturer, and you will need to be approved by them as an authorized reseller before you can list their items. Some items can be listed, but only in Used condition.
If your business model includes Retail Arbitrage (RA), it's always a good idea to have the Amazon Seller app downloaded on your phone or tablet so you can check if a product is restricted when you are out sourcing for items. When you scan an item, it will indicate whether you can sell the item, and if so, in what condition(s) you can sell it (New or Used).
If you are sourcing for products to resell online (OA, or Online Arbitrage), you MUST get the AZInsight Chrome browser extension on your computer. As soon as you open the Amazon product page, you will see whether the item is restricted for your account, whether you can Merchant Fulfill or FBA, if the item is Hazmat, Slow Moving, and much more. AZInsight is the most impressive Amazon product page analytics tool available on the market. There is no learning curve, so begin your Free Trial to AZInsight today. No more need to click around the Amazon website to see if you are restricted. AZInsight will show you without leaving the product page, and if you are restricted, one click will bring you to the place where you can request permission to sell.
Amazon wants their customers to shop with confidence, so they require that sellers meet certain requirements and receive approval to sell in some categories. The methods of obtaining the approval varies, but you can begin the process from within Seller Central.
Request approval
Sellers must meet additional qualifications to sell certain brands or list within certain categories on Amazon. To apply for approval: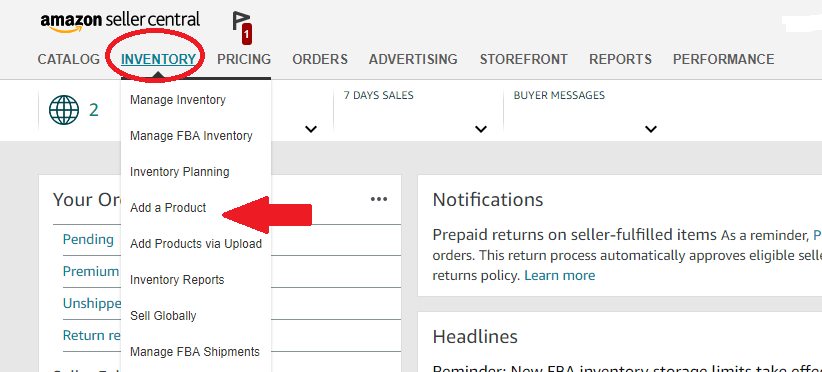 In Seller Central, click the inventory link and select

Add a Product

.

Run a search for the item you wish to sell.

In the search results, click the

Listing limitations apply

link across from the item.

Click the

Request Approval

button to begin the application process.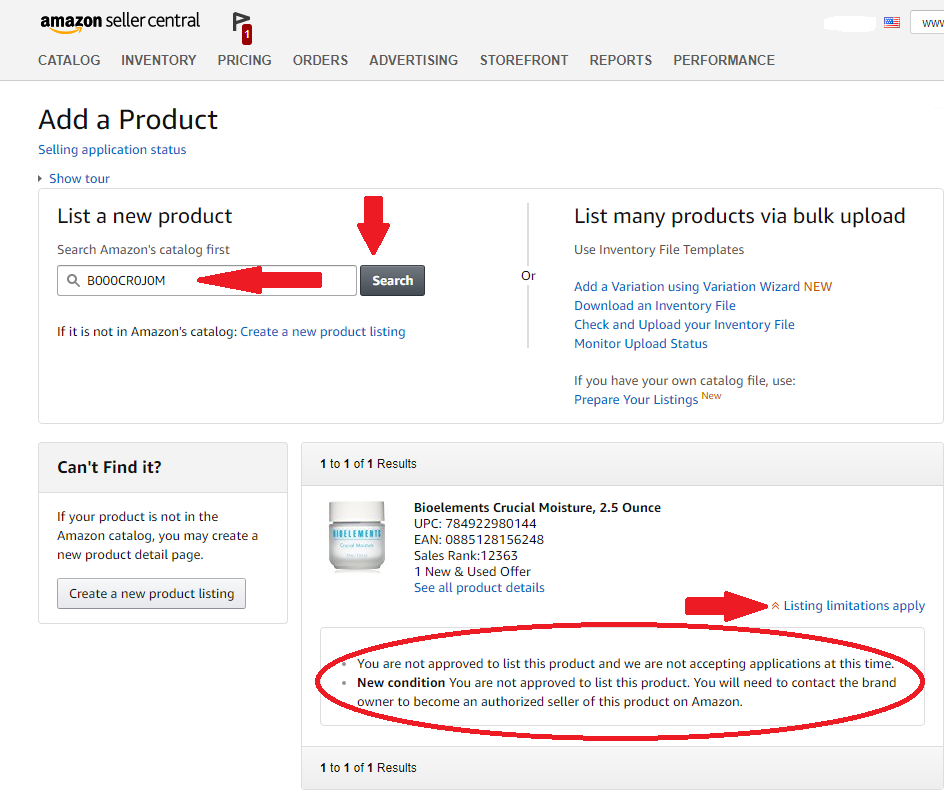 To check the status of an application, return to the Add a Product tool and click the Selling application status link located toward the top of the page.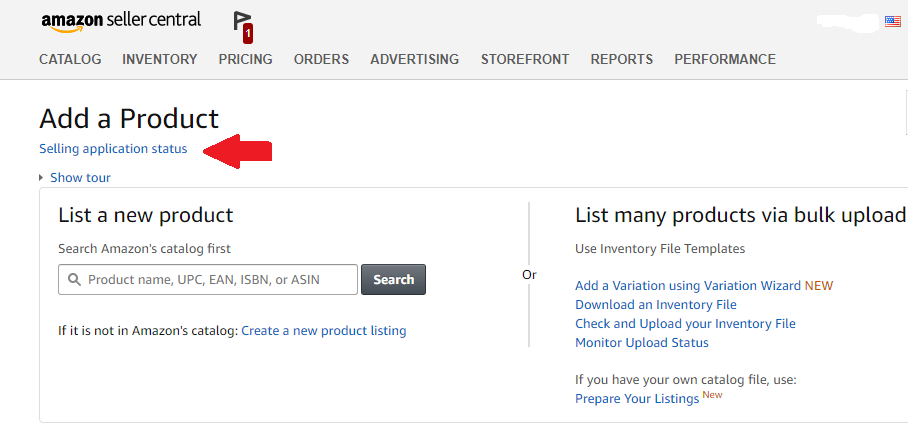 The longer you maintain your Amazon account in Good Standing, the better your account metrics will be and the easier it will be to become approved by just "asking". In these cases you will click "request approval", and a message will pop up congratulating you for your approval. This works for Categories, Sub-categories,Brands, and individual ASINs. It's really that easy.

Sometimes you will need to provide documentation showing where and when you bought the products, in order to prove to Amazon that you are selling authentic items. Sometimes you will need authorization from a distributor or the manufacturer. Provide Amazon with what they are asking, gain approval, and you can begin selling in that category.
If you are just an "occasional" seller or a hobbyist, you may not want to go through the process to gain approval for categories and brands. But if you are a professional business person who needs the approval in order to move your business forward, GET APPROVED! Don't get stuck here. There are plenty of resources to help you with this.
Let Seller Essentials help you get ungated.
Amazon Restricted Brands List
It is important to note that even if a brand is on this list it does not mean that every item under a brand is restricted. Sometimes the whole brand is restricted, and sometimes it is just a certain product or product-line within the brand that is restricted. The brands that are on this list are known to be restricted to new sellers, although some times it's as simple as requesting permission from Amazon in order to begin selling.
Save this page to your favorites and refer to it often. We will do our best to keep it updated with the most current Amazon restricted brands as they become available.
Some brand owners are very aggressive in trying to keep counterfeit copies of their products from reaching the market. Some are even trying to prevent sellers from selling genuine products that they legally purchased and, according to the US Supreme Court, are lawfully entitled to sell.
Have you received an Intellectual Property Infringement Claim or Cease & Desist letter from a brand or Manufacturer? Please share it with us so that we may add the information to our database.
You may upload files or images of the complaint by clicking HERE. Seller Essentials, LLC is not seeking to represent you in this matter, but we are interested in compiling information about brands that are attempting to prevent the resale of items on internet sites like Amazon.
A World of Deals
Abreva
Acer
Activision
Acure
Aden & Anais
Adidas
Adobe
Advantix
Aerobie
Aesthetica
Affresh
After Inked
AG Hair
Ahava
Air Hogs
Alaffia
All-Clad
Allen-Bradley
ALLMAX Nutrition
American Girl
Amope
Anastasia
Andalou Naturals
Andis
Anker
Anki
Anolon
ANSR
Apple
Aquafina
ARK Naturals
Art of Shaving
Asantee
ASUS
Atkins
Aura Cacia
Australian Gold
Avalon Hill
Avanti Linens
AVON
B.toys by Battat
Babybjorn
Babyganics
BaByliss
Badger
Balm Cosmetics
Bambeado
Bambüsi
Bandai
Banjo-Kazooie
Banpresto
Banzai
Barbie
Barcaloo
Bare
Bare Essentials Cosmetics
bareMinerals
Bargain Max Decals
Barnyard Designs
Bath & Body Works
Baxter of California
Bayer
Bayer Advantage
Beach Body/P90X
BeardBrand
Beats by Dre
Beauty by Earth
Belkin
Bellzi
Benchmade
Benefiber
Benefit
Best Bully Sticks
Best Home
Beyblade
BH Costmetics
BigMouth Inc
Billy Jealousy
Birkenstock
Bissell
Black & Decker
Black Diamond
Blinger
Bliss
Blue Poppy
BMW
Bob's Red Mill
Bodum
Body Shop
Boelter
Boppy
Borghese
Bose
Boston Warehouse
Brach's
Braggs
Braun
Breville
Breyer
Bright Starts
Britax
Brooks
Brookstone
Brother
BSN
BT21
Bumble and Bumble
Burberry
Burt's Bees
Butter London
Buxom Buxom
C.O Bigelow
Cable Matters
Calico
California Home Goods
Calphalon
Calvin Klein
Cane & Austin
Canon Cameras
Canon Printer
Capillus
Capri Blue
Carharrt
Carol Wright Gifts
Carol's Daughter
Carter's
Case-Mate
Casio
Caudalie
Cel-Fi
CeraVe
Chanel
Chef'n
Chefman
CHI
Chico
Christian Dior
Citizen
Clinique
Cloud B
Coach
CoasterStone
Color WOW
Columbia
Comtrex
Conair
Converse
Copper Fit
CorningWare
Cosori
COSRX
Cra-Z-Art
Crabtree & Evelyn
Craftsman
Crayola
Crazy Aaron's
Creative Co-Op
Crest
Crocs
Crucial
Cryptozoic Entertainment
Cuddle Barn
Cuisinart
Dandy Blend
Dark Souls
Davey
DC Comics
DDF
Deborah Lippman
Dell
Delorghi
DEMDACO
Deny Designs
DERMA-E
Dermalogica
Dermelect
DevaCurl
Dewalt
Diesel
DIOR
Discovery Kids
Disney
Disney Frozen
Dixie
DJI
DKNY
Dockers
Dolce & Gabbana
Douglas Laboratories
Dove
Dr. Brandt
Dr. Denese (Also known as SkinScience)
Dr. Dennis Gross Skin Care
Dr. Elsey's
Dr.Mercola
Dr.Teal's
Dreamworks Dragons
Dremel
Drive Medical
Drybar
Dunkin Donuts
Eagles Nest Outfitters
Earth Mama
Earth's Best
Eco Defense
EcoVessel
Educational Insights
Electronic Arts
Elizabeth Arden
Energizer
Epilady
ERGObaby
Escada
Essie
Estée Lauder
Evergreen Flag
Evlution
Excedrin Sinus Headache
Eyeko
Fabuloso
Fantasy Flight Games
Farberware
Fat Brain Toys
Feit Electric
Felina
Ferragamo
First Aid Beauty
Fisher-Price
Fit Organic
Flip Zee
Flonase
Fluval
FOCO
Folgers
Fortnite
Fossil
Four Paws
Fox Racing
Fred & Friends
Frozen (Disney)
Frozen (Movie)
Fun Express
Funko
Furminator
FurReal
Future Play
Galvanizeyourhome
Garden of Life
Garnier
GE
Georgio Armani
Gerber
Gerber Baby Food
Ghirardelli
Gigen
Gillette
Ginna Rose Atelelier
Giovanni
Giraffe Bath & Body
Glo Skin Beauty
Go Nutrients
Godefroy Eyebrow Tint
Godinger
Gold Bond
GoPro
Graco
Graminex
Green Mountain Coffee
Greenies
Griffin
Guess
Gund
Hallmark
Hamilton Beach
Hartz
Hasbro
Hatchimals
HBO
Healing Solutions
Heinz
Hempz
Hookless
Hoover
Hosley
Hot Topic
Hot Wheels
Hotel Spa
HP
Huggies
Hydro Flask
Icebreaker
Imagination Generation
Imusa
InStyler
Intex
iPhone
iRobot Roomba
Irwin Naturals
iscream
It Cosmetics
It Works
It's a 10
It's a 10 Haircare
Jack Black
Jakks Pacific
Jane Iredale
Japonesque
JBL
Jergens
Jet-Puffed
Jezebel and Paramour
Jinx
JLAB
Jo Malone
Jockey
Joseph Joseph
Josie Maran
Jouer
Juice Beauty
Juice Beauty
Juicy Couture
Jurassic World Toys
JVC
K'Nex
Kaput
Kate Spade
Kaytee
KEEN
Kellogg's
Kenneth Cole
Kera Therapy
KERASTASE
Kérastase
Keurig
KeySmart
KidKraft
Kiehl's
Kiinde
Kilner
Kind Bars
Kindred Hearts Dolls
Kinetic Sand
Kingston
Kirkland Signature
Kitchen Aid
Klipsch
Klorane
Knorr
KONG
KORRES
Kylie Cosmetics
L'oreal
L'Occitane
La Bella Donna
La Roche-Posay
Lacosta
LAMINET
Lamy
Lancome
Laser Pegs
Laura mercier
Lavido
Le Creuset
Leaders Insolution
LeapFrog
Learning Resources
Lego
Lenox
Levi's
LG
Lifeproof
Little Debbie
Little Live Pets
Little Tikes
Living proof
Lodge
Logitech
Lokai
Lorac
Louis Vuitton
Lucky Brand
LUVENA
Lux Blox
Lynksys
MAC cosmetics
Madison Reed
Magformers
Mama Mio
Mammut
Marc Anthony
Marc Jacobs
Mario cosmetics
Marubhumi
Marvel
Marvel – Avengers
Marvel – Spider-Man
Mary Kay
Matrix Biolage
Mattel
Maxpedition
Maybelline
McFarlane Toys
Mecanno
Meccano
Medela
Medline
Mega Bloks
Mega Construx
Melanie Mills
Melissa & Doug
Metagenic
Method
Michael Kors
Michele
Microsoft
Miele
Milani
Milk-Bone
Milwaukee
Minecraft
Mirity
Mixed Chicks
MIYABI
Mizuno
MLB
Modarri
Molton Brown
Monopoly
Monster headphones
Monster Jam
MOOD Matcher
Morning Pep
Moroccanoil
Morphe
MRM
Mrs. Anderson's
MSI
Mucinex
Munchkin
Murad
My Little Pony
Nabisco
Nars
Native Union
Natrol
Natural Factors
Nature Made
Nature's Bounty
Nature's Way
Nature's Sunshine
Nerf
Nestle
NEUMA
Neuragen PN
Neutrogena
New Balance
New Era
Nickelodeon
Nicorette
Nike
Nikon Cameras
Nintendo
Nioxin
No-rinse
NOONI
Nordic Naturals
Norelco
North Face
Northwest
Norvell
Now Foods
Nudges
Nuxe
Obagi
Ocean Pacfic
Olay
Old Skool
OLLY
Olympus
One
Oneida
ONNIT
Oral-B
ORGANIC INDIA
Organifi
Orlane
Oscar Blandi
OSCAR DE LA RENTA
Osmo
Ossur
Otc medication
Otter Box
Ouidad
OXO
Pacifica
Panasonic
Pandora
Parker Pens
Paul Mitchell
PAULA'S CHOICE
Paw Patrol
Pepcid
Peppa Pig
Pepperidge
Perfect Fitness
Perfect Keto
Perfume Samples
Perfume Testers
Perricone MD
PETARMOR
Peter Thomas Roth
Petsafe
Petstages
Petzl
Pevonia
Pfatlzgraff
Philips
Philips Norelco
Philosophy
Phyto
Pikmi Pops
Pillsbury
Pilot
Pioneer
Plantronics
Play Visions
Play-Doh
PLAYMOBIL®
Playtex
POC
Poise
Pokemon
Pomsies
Poopsie
PopSockets
Power Wheels
Premiere Protein
Pressman
Price Pfister
Proactive
Project Mc2
ProTrack
Pur Cosmetics
Puracy
Pure Inventions
Pursonic
Pyrex
Outward Hound
Quaker
Quercetti
Quikrete
Rae Dunn
Rainbow Light
Rasyan
Ravensburger
RayBan
RCA
Redken
Redkin
Reebok
Relic
Retaine
Revlon
Rick and Morty
Rimmel
Rio Grande Games
RMS
Rocco & Roxie
RODE
Rodial
Roku
Rolodex
Rosetta Stone
Royal Canin
RSP Nutrition
Rubbermaid
Rubie's
RUFFWEAR
RXBAR
RYAN'S WORLD
S'well
Sachajuan
Safeguard
Safety 1st
Sally Hansen
Samsung
SanDisk
Saponificio
ScarAway
Scentio
Schleich
Schwinn
Scientific Explorer
Seagate
Seagate
Sebastian
SEGA
Sensa
Sephora
Sesame Street
Seventh Generation
SEXYHAIR
SharkNinja
Sharper Image
Shea Moisture
Sheer Strength Labs
SHIMANO
Shiseido
Shopkins
Showtime
Shu Uemura
Sigma Beauty
Similac
Simply Organic
Siphotrol
SK II
Skagen
SKINCEUTICALS
Skip Hop
Skip Hop Zoo
Skullcandy
Skyn Iceland
Smashbox
Smith Optics
Snake Brand
Snoopy Sno-Cone Machine
Snyder's of Hanover
Sol De Janeiro
SOL Republic
Solio
Somme Institute
Sony
Spark Cafe Cups
Special K
Speck
Speedo
Spigen
Spin Master Games
Spode
SportDOG
Square Enix
Squishmallow
srichland
St. Tropez
Stanley
Star Wars
Starbucks
Startech
Steel Glo
Stella & Chewy
Stila
Stonewall Kitchen
StriVectin
Summer Infant
Sun Bum
Suncast
Swimways
Swiss Miss
SYMA
T-Mobile Prepaid Phones
Tamagotchi
TaoTronics
TAZO
Tenergy
Teraswhey
Tervis
Tetra
Thames and Kosmos
The Art of Shaving
The Body Shop
The Genius Brand
The Good Stuff
The Noble Collection
THE ORDINARY
The Pioneer Woman
The Republic of Tea
Theraflu Caplets
Thermopro
Thinkfun
Thymes
Tide
Timberland
Tinosorb
Tom Ford
Tommie Copper
Tommy Bahama
Tommy Hilfiger
TOMS
Too Faced
Tory Burch
Toysmith
TP-Link
Training Mask
Transformers
True Religion Brand Jeans
Twinlab
Twisty Petz
Ty Beanie Boos
Typhoon
Uggs
Under Armour
Update International
Urban Decay
urpower
USAopoly
Ustaad
Vanra
VANVENE
Vera Bradley
Vichy
Victoria Secret
Vinvent Longo
Vitacost
Vital Proteins
Vital Proteins
Vitamin World
vlcc
Vulli
Wallace
Warner Brothers
WD – Western Digital
Weber
Weiman
WEN
White Mountain Puzzles
Whitmor
Whos Most Likely to…
Wildhorn Outfitters
Wilson Sporting Goods
Wilton
Wolf
WowWee
WubbaNub
WWE
Yankee Candle
YETI
Yonka
YouCopia
Younique
Zhou Nutrition
Zing Anything
Zirh
Zoku
Zoomworks Stuffies
Zuzu
Zwilling J.A Henckels