Amazon Prime has many benefits, and FREE two-day shipping is one of the better ones. But if you are an Amazon seller and are buying things from the Amazon website with the intention of reselling them (on or off Amazon), it is against the Amazon Terms of Service to use your Prime membership for these orders.
"But what if you choose something other than the Free two-day shipping?" you ask…
Let's take a look at an example: I placed a countertop microwave oven into my shopping cart in both my Amazon Prime account, and my non-prime account in order to see the shipping options. Today is Nov 13th.
The Prime account has these 2 options for shipping :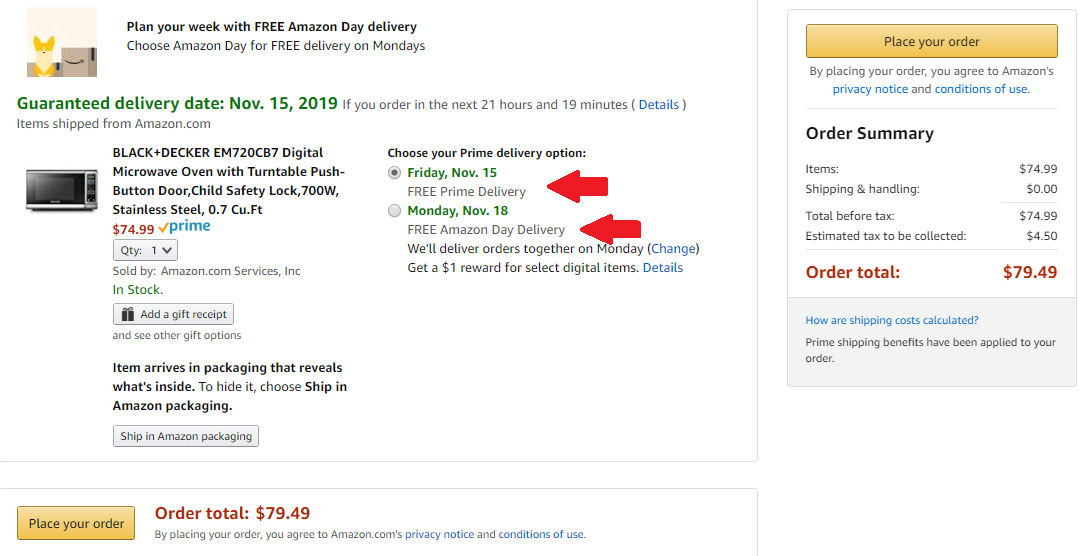 Get it Nov. 15 – FREE
Get it Nov. 18 – FREE (plus receive a $1 reward for select digital items for having all Prime orders delivered together one day per week)
Since I am a Prime member, I automatically get free 2-day shipping (Nov. 15), or I can opt for the combined Prime delivery (one delivery day per week), in which case Amazon will give me a $1 credit on a digital purchase.
The non-prime account has these options: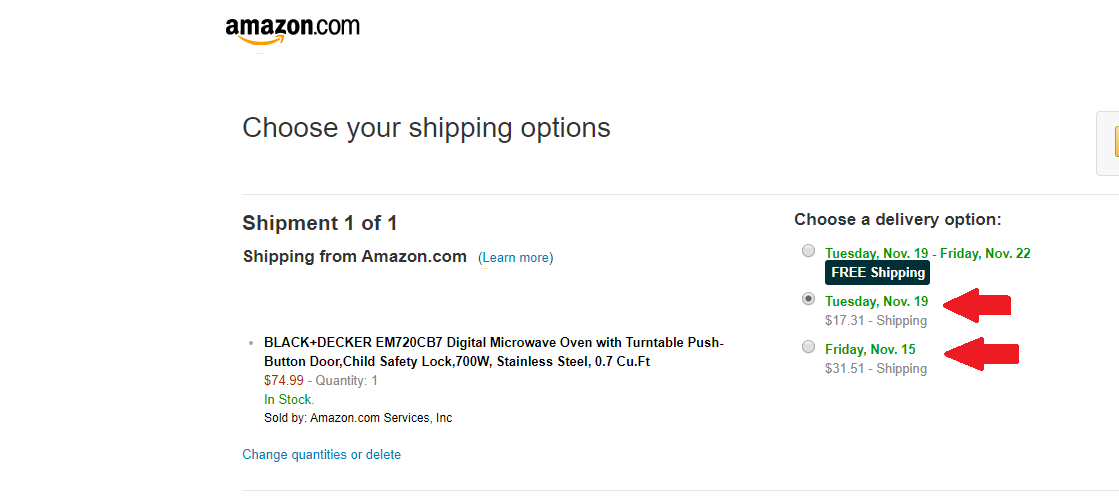 Get it by Nov. 15 – $31.51 shipping (Prime is FREE)
Get it by Nov. 19 – $17.31
Get it sometime between Nov. 19 and Nov. 22 – FREE
As you can see, no matter which of the non-Prime shipping choices I make, the Prime option is BETTER, and costs Amazon more money. Non-Prime members have to pay over $31 to get the microwave by Friday, but Prime members get it for FREE. Non-Prime members have to pay over $17 to get it in 7 days but Prime members can get it FREE in 2 days, or FREE in 5 days with a reward thrown in as a bonus.
Prime is a membership program for CONSUMERS (the end customer), not for RESELLERS. Amazon often loses money on these sales, but it builds good will with their customer, and at some point, Amazon will make a profit on sales to that customer.
So to stay within Amazon's TOS, do not buy ANYTHING through your Prime account for reselling purposes. Open a non-Prime buying account and use it for your Amazon to Amazon flips. Don't risk having your Prime benefits canceled over a TOS violation.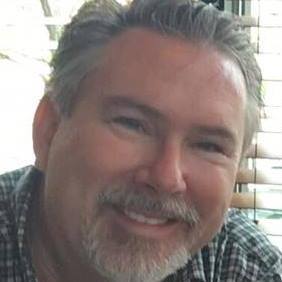 About the Author
Greg Purdy is the founder and co-owner of Seller Essentials, the resource website for all things Ecommerce. He lives in Maryland with his wife and children.
Subscribe to Essential Updates
for more resources, tips, and strategies to help grow your online business.